UDA Technologies is proud to announce that ConstructionOnline™ has once again been recognized as an industry leader in construction project management software—outranking competitive solutions in Functionality, Ease of Use, Value for Money, and Customer Support.
In the most recent Review Insights report compiled by Software Advice, ConstructionOnline was compared to major competitors in the construction project management software industry, including Procore and Buildertrend. Software Advice analyzed end-user reviews submitted in 2022 to compile scores for the construction management platforms across 5 categories: Overall, Functionality, Ease of Use, Value for Money, & Customer Support. ConstructionOnline earned the top-ranking score in all 5 categories, demonstrating that the platform's features, functionality, ROI, and client satisfaction are the best in the industry, according to real users of construction management software.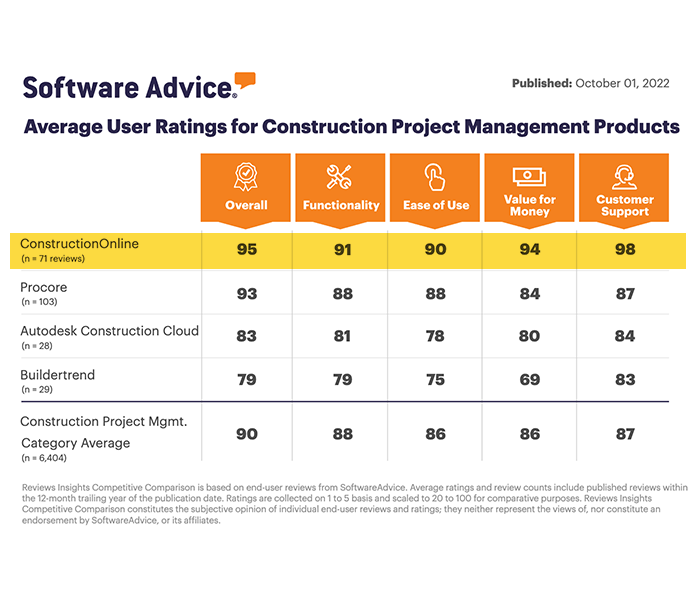 Software Advice, a division of Gartner, is the leading provider of online advisory services, research insights, & user reviews for businesses seeking software applications across more than 300 industries—including construction, CRM, business intelligence, accounting, and more.
Over 850,000 construction pros trust UDA ConstructionOnline™ as the #1 solution for construction management & business intelligence with innovative tools designed to streamline operations, increase profits, and reduce risks. To learn more about ConstructionOnline 2023, contact a UDA Product Specialist at 1-800-700-8321.