UDA Technologies is excited to kick off 2021 by announcing the release of the much-anticipated new integration between Redline™ Takeoff + ConstructionOnline's OnCost™ Estimating. This powerful update delivers advanced options allowing users to create detailed construction estimates directly from online plan sets.
Introduced in January of 2020, Redline™ Takeoff initially impressed with full-fledged construction takeoff online, giving contractors around the world revolutionary new tools for getting accurate cloud-based measurements, dimensions, and quantities from anywhere at any time. In the last year, Redline™ Takeoff has proven exceptional in accuracy & ease-of-use with updates that have introduced sheet scanning & callout linking powered by UDAi, additional advanced measurement options, new reports & views, Google map imports, and more.
New integration with advanced online construction estimating in ConstructionOnline™ expands the incredible power of UDA's all-in-one construction financial toolkit - increasing estimate accuracy, streamlining team collaboration, and ensuring profit visibility. Users will find that Takeoff + Estimating work seamlessly together. OnCost™ Estimating Templates can be used as a foundation for organizing & structuring takeoffs, and items from ConstructionOnline™ Company Costbooks can easily be assigned directly to takeoff measurements, ensuring up-to-date cost data and the most accurate estimates possible.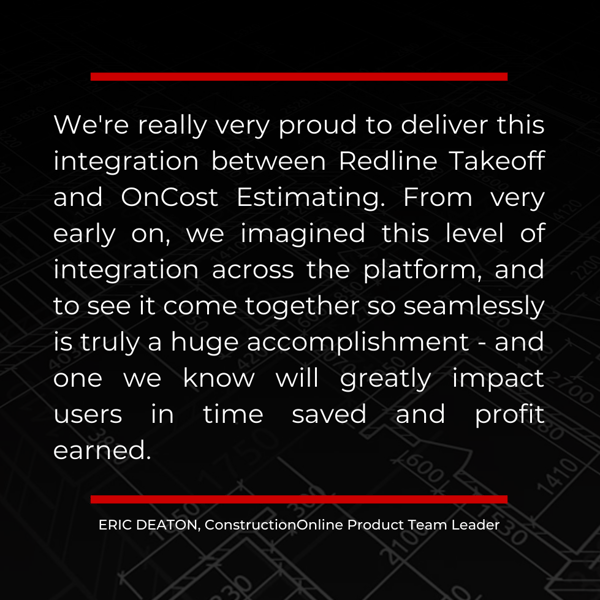 Redline™ Takeoff is included in all current ConstructionOnline Team, Business, and Enterprise subscriptions. Learn more about available subscription packages here.
ConstructionOnline, the #1 rated construction project management software for mid-market construction companies worldwide, provides powerful tools for growth-minded builders in a fast, accessible cloud environment. To learn more about Redline™ Takeoff + ConstructionOnline's OnCost™ Estimating, contact UDA Technologies at 1.800.700.8321.