NAHB recently hosted the International Builders' Show (IBS) at the Las Vegas Convention Center, and UDA Technologies was proud to exhibit the latest in construction project management software for the fourth consecutive year.
UDA Technologies debuted stand-alone Redline Planroom with Redline Takeoff, new & highly-anticipated additions to the UDA Family of Products in daily demonstrations, showcasing an array of compatible devices, including the Microsoft Surface Pro, iPad, and Samsung Flip. UDA also presented newly released ConstructionSuite 11 and ConstructionOnline 2020 with scheduled workshops and one-on-one demonstrations for show attendees.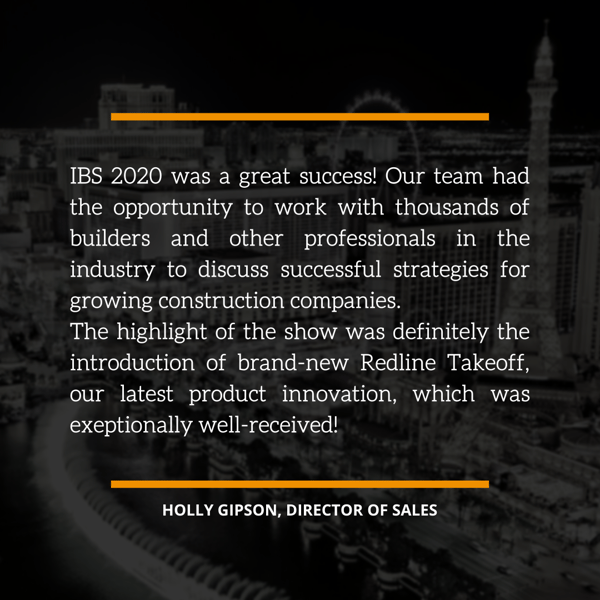 The National Home Builders Association (NAHB) + the National Kitchen & Bath Association (NKBA) join together annually to host Design & Construction Week (DCW), "the premier event for the housing industry." Bringing together more than 95,000 construction industry professionals and over 2,000 vendors, DCW provides excellent opportunities for networking, education, and professional development. UDA Technologies embraces the opportunity to meet with current and potential clients in an environment focused on building successfully construction businesses worldwide, and looks forward to exhibiting at IBS once again next year in Orlando, February 9-11, 2021.
UDA Technologies continues to be one of fastest growing providers of construction productivity software, currently serving more than 750,00 construction professionals in the United States, Canada, Australia, and 75 countries worldwide with double-digit, industry-leading revenue growth year to year.
To learn more about UDA's construction software solutions, contact a Product Consultant today at 1-800-700-8321.